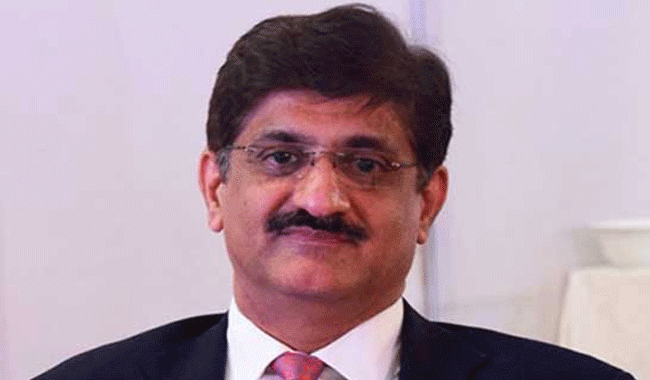 THATTA: Sindh Chief Minister Syed Murad Ali Shah said on Tuesday that the federal government had failed to expedite work on census results and carrying out delimitation exercises.
"This has raised the apprehensions of delaying general elections which PPP would never allow," the chief minister said while talking to media after laying a foundation stone of a hospital being established by a local NGO, Sahil Welfare Trust here at Darya Peer village on the Coastal Highway near Mirpur Sakro of District Thatta.
Murad said that in the CCI meeting held on Aug 25 permission was sought to lay provisional census results. But sorry to say, one of the federal ministers on the floor of the National Assembly said "the Sindh chief minister had accepted the census results."
He went on to say that in the CCI meeting of Nov 13, he had lodged a complaint with the prime minister against the irresponsible statement given by the federal minister about him. The prime minister upheld the chief minister's point of view and said meeting was meant only for laying provisional results not for approving the results.
He said that in the CCI meeting there were eight votes but he was the only one who had discussed census results ranging from average numerical size of a family unit, male- female ratio, average housing units in rural and urban areas in the meeting.
Murad said that the federal government after laying census results in the CCI meeting of Aug 25 called Inter-Provincial Coordination Committee meeting (IPCC) on September 7 to discuss the census and delimitation mattes.
In the IPCC meeting, it was pointed out that the census and delimitation matters belonged to CCI, therefore they referred them to the CCI.
The prime minister had called CCI meeting on November 13, and said a constitutional amendment was required for starting delimitation on the basis of provisional census results. Now, question arises why the federal government is wasting time by playing ping pong with census, he asked and said when the constitutional amendment was required the federal government should have gone directly for amendment instead of referring the matter to IPCC and CCI.
He said that in the CCI meeting it was disclosed to declare final census results by April 30 and then the election would be held in August, 2018.
Replying to a question, the chief minister said that he had conditionally accepted provisional results. He added that the conditions include conducting third party validation of one percent of the census blocks, means 1600 blocks would be verified; publish block-wise census results and the third condition was about the creation of a credible Forum which can rectify the mistakes, if found in the verification.
He said that the federal government at the CCI forum accepted all his conditions and then it was allowed to amend the constitution.
Replying to a question about Imran Khan's demand for early election, the chief minister said if the PTI was serious in its early election demand then why their KPK Chief Minister Parvez Khattak voted for amendment in Read MOre