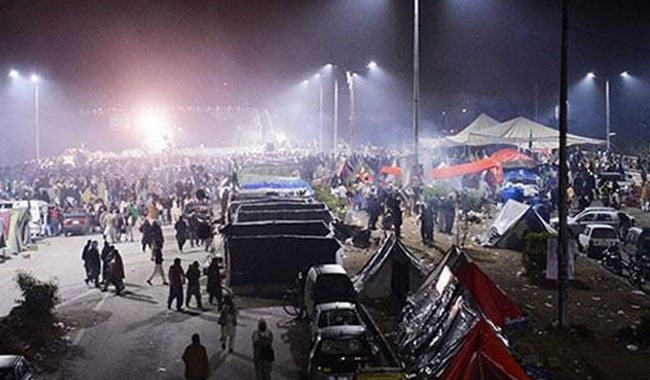 ISLAMABAD: Initial talks between the protesters and the government were ended in which the latter hinted at withdrawing cases from the leaders of demonstrators here on Saturday.
Sources said that the sit-in committee had shown flexibility and both the sides had reached a consensus over a written agreement.
The first round of negotiations was held at the residence of PML-N central leader Raja Zafarul Haq.
During the talks, both the sides presented their points and the sit-in committee had sought time from the government for further consultation with Majlis-e-Shura.
Sources added that a breakthrough is likely in next round of talks.
Interior Minister Ahsan Iqbal represented the government side while the protesters were represented by Golra Sharif's custodian Pir Ghulam Nizamuddin Jami.
Earlier in day while talking to media in Islamabad, Interior Minister Ahsan Iqbal had said that we are ready to hold dialogue with the organizers of the sit-in to resolve the matter peacefully due to which government has decided to extend the deadline for another 24 hours for the protesters.
He said that directives of Islamabad High Court (IHC) would be implemented.
He further said that all the parties came together to restore the clauses of Khatam-e-Nabuwat [Finality of Prophet-hood] to their original form.