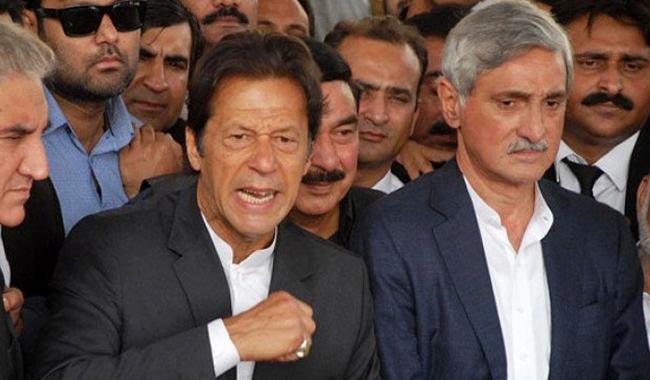 ISLAMABAD: The Supreme Court of Pakistan on Tuesday reserved verdict in petitions seeking disqualification of Pakistan Tehreek-e-Insaf chairman Imran Khan and Jahangir Khan Tarin.
The petitions were filed by Pakistan Muslim League-Nawaz lawmaker Hanif Abbasi.
During the hearing, Chief Justice of Pakistan observed that Imran Khan declared his London flats but failed to declare his offshore company in asset details.
The remarks came as a three-member bench of the apex court heard Abbasi's petitions separately.
At the onset of the hearing, Naeem Bukhari, argued three questions were raised against his client in the case. He said the questions were: what was the source of London property, at what cost it was sold, where was the money spent and when was the London property declared in Pakistan.
He said the London flat was declared in 2000 under amnesty scheme about which chief justice remarked the flat was declared but offshore company was not.
He stated that Imran Khan didn't declare because neither he was the beneficial owner nor was he a share holder.
Hanif Abbasi's lawyer Akram Sheikh argued that Imran Khan has accepted that Niazi Services Offshore company was set up to purchase the London flat and the transactions of the company shows the PTI chairman was the actual owner of the company.
Countering the argument, Bukhari said there was no contradiction in any answers provided his clinet and neither did he take any uturn.
He said the court sought money trail of London flat and the price of sale which was has already been submitted besides the details of declaring London flat.
He maintained that his client might have committed a mistake in declaring his assets in 2002 but he never misstated.
The lawyer said Imran Khan's nomination papers would have been rejected by returning officers had he hidden anything but the Election Commission didn't object to Khan's returns.
Naeem Bukhari said the case could not be compared with Panama Papers case which was related to the prime minister and in which salary was not drawn. He said In Imran Khan's case money was not transferred abroad.
The chief justice said if you speak truth you don't' have to remember anything said in the past.
He said the court was hearing the case in search of truth and it should not be expected that the decision would be given tomorrow.