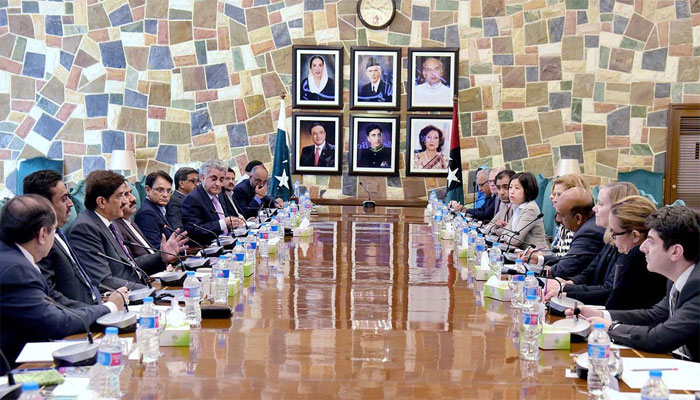 KARACHI: The World Bank has, in principal agreed to finance the much awaited rehabilitation of Sukkur Barrage for the provincial government has been asked to submit the PC-I.
This decision was taken in a meeting held between Sindh Chief Minister Syed Murad Ali Shah and World Bank Country Director Mr Patchamuthu Illangovan and his 14-member experts and sector chief delegation.
The chief Minister was assisted by Provincial Ministers for Home Sohail Siyal, Local Government Jam Khan Shoro, Population Welfare Mumtaz Jakharnai, Chairman P&D Mohammad Waseem, Principal Secretary to CM Sohail Rajput, Secretary School Education Iqbal Durani, Secretary Health Fazal Pechuho, Secretary Irrigation Jam Shah, Secretary Population Laiq Ahmed and others.
Sindh Chief Minister Syed Murad Ali Shah said that consultants for feasibility study for rehabilitation of Sukkur Barrage was conducted and the draft feasibility was reviewed by experts. Further revision in feasibility Study was made by World Bank Experts, including experts in Dam Design, Sedimentation and Structures.
He said that the Consultant's Environmental Impact Assessment (EIA) Report Was also reviewed by International POE in August 2017, after public hearing for the project's environmental impacts. The international POE has also submitted Environmental and Social Assessment Report.
The Chief Minister giving details of assessment findings said that Barrage structure has been declared safe and rehabilitation works could extend its life indefinitely. He added that the rehabilitation works for exiting barrage selected for design discharge of 1.3 million cusecs, which would not require any changes in the existing right pocket river training works.
He said that additional studies have been recommended during the implementation stage. They are location study for a new barrage, Sediment Transport Modeling and Monitoring Study, Physical Model Study in UK/Holland for Consultant's recommendation for changes in right pocket river training works, enabling increase in the Barrage flood handling capacity to 1.5 million cusecs.
The chief minister said that the rehabilitation works would be implemented over a period of four years.
The chief minister said that as per recommendation in the feasibility report complete replacement of all electrical works such as switchboards and Local Control Panels with Cabling, dedicated feeding from WAPDA Grid Station, 11 Kv transformer and Main Controls Switchboard and Standby Generators.
Giving details of the project cost, the chief minister said that it would come around Rs16.256 billion.
The World Bank Country director urged the chief minister to ask him team to submit PC-I of the project so that it could be formally approved.
The Chairman P&D Mohammad Waseem and Secretary Irrigation Jamal Shah said that the PC-I of the project was at final stage to be submitted within 15 days.